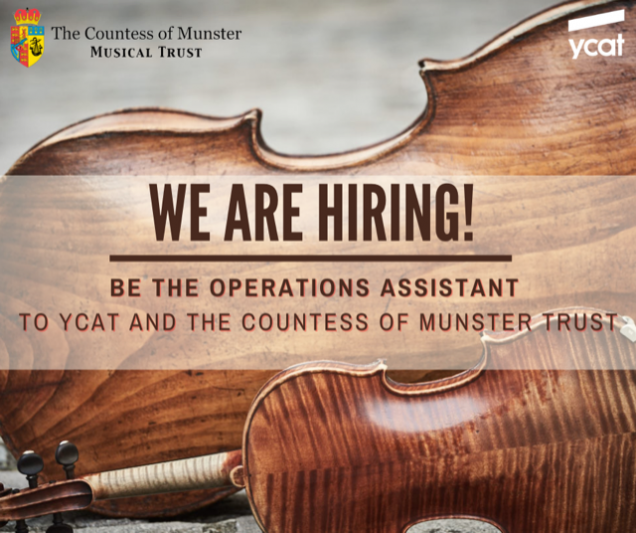 Job Vacancy for Operations Assistant
COUNTESS OF MUNSTER MUSICAL TRUST & YOUNG CLASSICAL ARTISTS TRUST
Position: Operations Assistant
Reports to: Executive Director, CMMT & General Manager, YCAT
Location: West Wing, Somerset House, London Contract: Full-time, 1 year fixed term contract
Salary range: £23,000 per annum
Working hours: 9.30am – 5.30pm Monday-Friday (with occasional evenings when required)
Probationary Period: Six months, with option to extend
Overall Job Purpose
To provide administrative support to the Countess of Munster Musical Trust (CMMT) and Young
Classical Artists Trust (YCAT).
Job Overview
This position is a perfect opportunity for a bright, motivated and well-organised individual
considering a career in artist management and looking for a first step. The role offers the chance
to develop a broad range of skills and understanding of the world of emerging artists in the
classical music industry, and assisting in the running of a musical charity. Hours will be split
between work for the Countess of Munster Musical Trust and Young Classical Artists Trust.
Key Responsibilities:
YCAT
Working closely with the Senior Artist Manager, Assistant Artist Manager & Digital Communications
Manager and liaising with the rest of the YCAT team.
Specific areas of responsibility:
Artist Administration
● Liaising with venues and artists over travel, accommodation, rehearsal and concert arrangements
● Assisting with travel/accommodation booking and visa applications
● Maintaining accurate records/information on the Overture database
Digital Communications
● Writing copy and scheduling social media posts, updating the social media calendar accordingly
● Updating the YCAT website
● Occasional video editing & content creation for social media
● Other general communications tasks as instructed
General Administration
● The first point of contact for general email and telephone enquiries
● Other general office administration
YCAT Wigmore Hall Lunchtime Concert
● Assist in the administration and running of YCAT Wigmore Lunchtime Concerts
● Manage guest lists and tickets for YCAT Wigmore Lunchtime Concerts
YCAT Auditions
● Preparing and coordinating audition application forms
● Administration of applications, audition fees and references, collating information in
preparation for each round of auditions
● Responding to audition enquiries
● Preparing timetables for the semi-final and final auditions
CMMT
Working closely alongside the Executive Director to ensure the smooth running of the CMMT Trust.
Specific areas of responsibility:
● Belfield Trust: to help manage the loan, the recall and re-homing of returned instruments:
ensuring that repayments and insurance of the instruments is kept up to date.
● Recital Scheme: To liaise with artists and music clubs, send payment advice and invoices, keep
the diary up to date, prepare the Recital Scheme brochure and update the website as necessary.
● Auditions: To plan, schedule and oversee the arrangements for the annual auditions.
●  Board meetings: To attend, take and write up minutes for all board meetings of the Trust.
Personal Specification
● Demonstrate an interest in classical music
● Computer literacy essential, ideally in the use of Microsoft Office, Google Suite and Word Press.
● Demonstrate excellent verbal and written communication skills
● Have the ability to prioritise and manage multiple deadlines
● Have excellent attention to detail, accuracy and efficiency
● Demonstrate excellent time management and organisational skills
● Be a good team player and able to resolve tricky situations in a calm and friendly manner
● To be flexible and prepared to take on additional areas of responsibility as the workload
dictates.
Desirable Skills
● Social media experience
● Video editing skills
How to apply
To apply, please send a CV of no more than two pages together with names of two referees, and a
covering letter of no more than one side of A4 explaining why you think you are our ideal candidate
for this role to Elizabeth Linney at recruitment@ycat.co.uk
Deadline for applications: 5.00pm, 28th July 2023
Interview Date: Week commencing 31st July 2023
If you have any questions, please write to recruitment@ycat.co.uk.